Cave Descriptions
27/9
Lev Bishop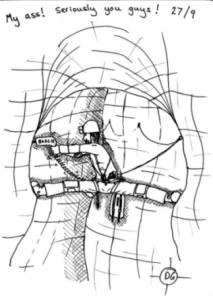 A team returned to 27/9 to try to find out what happens to the strong draught that is felt at the top of the final pitch. There is no strong draught at the bottom and it had been suggested that perhaps it would be worth rigging a traverse from the pitch head. This year's discoveries in 2/7 made 27/9 seem an especially worthwhile place to look for a way on.
The traverse was successfully rigged in two trips, made much easier by the use of the Bosch drill and long stud anchors that were able to provide a reassuring belay despite being placed into flowstone. The airy traverse, named "My ass! Seriously, you guys", involved extremely wide bridging with footholds on overhanging walls, and each of the 6 bolts held at least one fall during the rigging. Unfortunately, the far end of the traverse simply reached the calcite grotto which had been found in 1998 by climbing up the rift at the bottom of the pitch, and it was determined that the draught definitely did disappear down into this rift.
A return was then made to the bottom of the pitch and Lev tried to insert himself into the lowest point of the rift. He believes that he could feel it widening by his feet and that a bit of sustained capping effort would probably be successful, allowing one into the navigable continuation which is visible (but not accessible) from higher in the rift. Given the cave's potential for providing an easier route into the far upstream reaches of 2/7 and/or a dry link between 2/7 and Sistema Verdelluenga it seems well worth the investment of effort.