The Editorial
by John Singleton
In the two years since the last OUCC proceedings, the Club has concentrated almost all its efforts on one cave, Pozu del Xitu in Asturias, Northern Spain. There have been two expeditions to Xitu in that time and the one in 1982 finally saw us reaching the terminal sump at -1139m.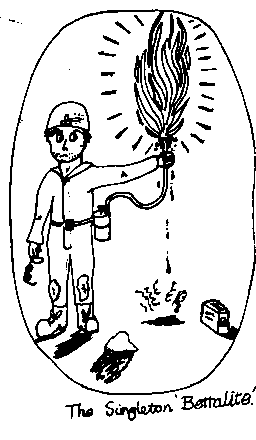 As in 1979, the base camp for both expeditions was at the road head at Lago de la Ercina (see map). At first in 1980, our upper camp consisted of a few tents around the Refugio MVA Ario but after a heavy snow fall demolished two of them, many of us moved inside. The Refugio provided bunk beds for those who could afford them, a water supply (a dripping spring), plenty of vino, an occasional "El Puritan" and a large room to chat, cook and draw surveys up in, all great bonuses on any Expedition.
Our transport was as usual slightly eccentric. In 1980 Dudley's "hip" fur lined VW van and a smashed up Datsun courtesy of Martin (he did the smashing) and Rae (she supplied the car) gave useful service as tackle carrying vehicles. Some of our expedition members in 1980 were even privileged enough to be passengers on the Viscount which crashed returning to England from Santander. In 1981, the Club managed to buy a Land Rover called Rosemary to carry the 2km of rope, Ľkm of ladder and numerous bits of camping gear required to push Xitu.
By crafty tricks such as hiring cars in Spain, sending people by Transalpino and cramming three people and tons of gear into the Datsun just for its trips onto and off the ferry, we managed to have the lowest travelling costs per person of any Expedition to Spain in 1980 and 1981.
That is probably all that needs to be said by way of introduction apart from repeating my predecessor's observation in Proc. 9. After 20 years of Spanish Expeditions, OUCC have finally hit the Big Time and found the seventh deepest cave in the world. But that's not all; we're all still good friends after three Expeditions. That counts for a hell of a lot when you're pushing a cave like Xitu.