OUCC was 50 years old in 2007!
The inaugural meeting was on 5th November 1957, and the first caving meeting was down GB on 1st December 1957.
Weekend 14th-16th September - The "President's Invite": the by-now-traditional mass caving, walking, eating, drinking, meeting for all OUCC, past and present. At the Old School House, near the Hill Inn, Chapel-le-Dale, Yorkshire. Pictures.
Saturday 29th September - The OUCC 50th posh nosh; St Edmund Hall. Preceded by a "History of OUCC" / reunion session , and followed by a party, with a pub-lunch on the Sunday. Pictures: The President's Speech
Saturday 1st December: The 50th Anniversary trip. OUCC's first ever caving meeting was on 1/12/57, to GB cavern. We did it again, on 1/12/2007! Two veterans of the 1957 trip were especially welcome. Pictures
And - "Blasts from the Past"; messages of solidarity from far and wide
After an attempt on Eastwater Swallet, 2/11/1958: Richard Gowing and Peter Crabtree on the left, others unknown.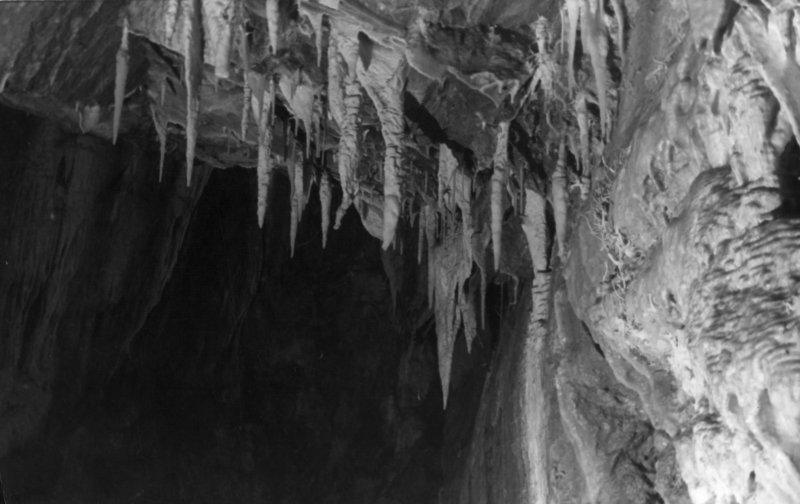 In GB cavern, on the first ever OUCC caving trip, 1/12/1957
Outside the MCG hut, 1958: Peter Crabtree on left, John Leonard with pipe, Stan Nichols 3rd from right, Richard Gowing with pickaxe, others unknown